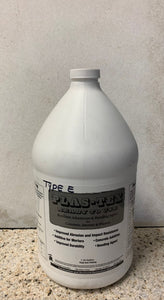 Plas-Tex RTU – Ready to use acrylic bonding agent
Plas-Tex RTU acrylic bonding agent is a water dispersion of acrylic polymers. It is specifically designed to be used as an integral admixture to modify Portland cement compositions; as concrete, mortar and stucco. Its use offers many distinct advantages when compared to unmodified concrete such as greater tensile strength, compres­sive strength, flexural strength, impact strength and abrasion resistance.
Plas-Tex RTU modified concrete or mortar is especially useful in thin section repairs or overlays as it improves the adhesion, cohesion and resiliency, as well as wearing quality and durability, especially when heavy vibration and traffic is experienced.
El agente de unión acrílica Plas-Tex RTU es una dispersión de agua de polímeros acrílicos. Está diseñado específicamente para ser utilizado como una mezcla integral para modificar las composiciones de cemento Portland; como hormigón, mortero y estuco. Su uso ofrece muchas ventajas distintas en comparación con el hormigón no modificado, como una mayor resistencia a la tracción, resistencia a la compresión, resistencia a la flexión, resistencia al impacto y resistencia a la abrasión.
El hormigón o mortero modificado Plas-Tex RTU es especialmente útil en reparaciones de secciones delgadas o superposiciones, ya que mejora la adherencia, la cohesión y la resistencia, así como la calidad de desgaste y la durabilidad, especialmente cuando se experimentan fuertes vibraciones y tráfico.